Art in Odd Places: RECALLed – October 14, 2015 – October 28, 2015
Opening Reception: Wednesday, October 14, 7-9pm
BoweryBoogie: http://www.boweryboogie.com/2015/10/art-odd-places-recalled-lodge-gallery-recap/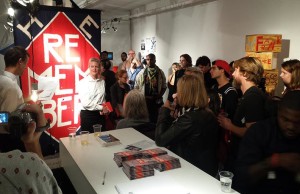 Art in Odd Places (AiOP) presents Art in Odd Places: RECALLed, an exhibition organized by Caitlin Crews, Claire Demere, and Ikechukwu Casmir Onyewuenyi with Art in Odd Places curators Kendal Henry and Sara Reisman. Hosted by The Lodge Gallery. The exhibition features a selection of artworks by artists participating in this year's anniversary festival––RECALL––and is accompanied by a publicly accessible archive with current and past artists' documentation.
The two week run of Art in Odd Places: RECALLed includes numerous evenings of special programming and performances from participating artists in this year's festival. The show aims to manifest the past and future of AiOP through its archival component, which will continue past the exhibition as an ongoing repository for Art in Odd Places' history.  
Featuring: BAMteam, Isidro Blasco, Dennis Redmoon Darkeem, Nicholas Fraser, John Craig Freeman, Ghana ThinkTank, Monika Goetz, Johannes Rantapuska & Milja Havas, Terry Hardy, Leah Harper, Linda Hesh, Sam Jablon, Liz Linden, LuLu LoLo, L Mylott Manning, Carolina Mayorga, Jenny Polak, Sasha Sumner & Nick Porcaro, Tim Thyzel, Marieke Warmelink & Domenique Himmelsbach de Vries, Brooks Wenzel.