December, 2012
Download FOUNTAIN PDF (design by Orlando Arocena and Jason Patrick Voegele)
Wynwood, Miami Development Project

Republic Worldwide is excited to announce our collaborative partnership with Keith Schweitzer of MaNY and this years  Fountain Art Fair Miami 2012. We are also excited about the talented line up of artists that we will be exhibiting in our featured booth at Fountain this December 6-9. Over the last 7 years Fountain Art Fair has received critical acclaim for its uniquely alternative art fair model and genuine dedication to the artists and galleries who share in it's vision and ideology. Celebrated as the first of a new generation of influential alternative fairs, Fountain has reinterpreted the concept of the art fair experience and now represents over 65 international avant-garde galleries including Republic Worldwide in New York, concurrent with The Armory Show and in Miami, concurrent with Art Basel Miami Beach. This years artists at Republic Worldwide include Hayley McCulloch, Fedele Spadafora, Levan Mindishvalli, Uta Bekaia, Willard Morgan of Ideal Glass, Blake Sandberg, Seze Devres, Sean McGurn, Eric Diehl, Julia Samuels, Doug Parry, Ian McGillivray, Cia Pedi and Sirikul Pattachote.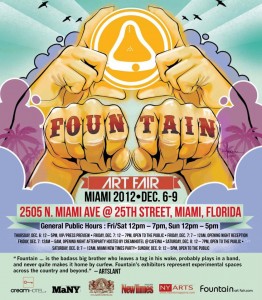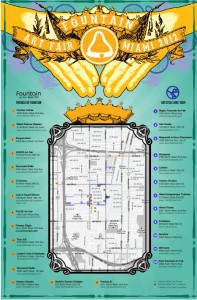 This year Fountain is larger and more engaging than ever and Republic Worldwide will be right there at the heart of the festivities. In addition to the exhibitors, artists, performers, Dj's and headliners like J. Patt of the Knocks and the fresh from Bushwick- TIKIDISCO, Fountain is also partnering with local Miami organizations such as 305Green.com, Art Cycle Bike Tours and ROAM guided walking tours to bring you the Wynwood Community Lounge. At the Republic Worldwide/Fountain Community Lounge you can learn more about the history of Wynwood, register for guided tours through the neighborhood, and meet local artists who draw inspiration from hometown pride. In conjunction with the community lounge, Fountain will be releasing a limited edition map of the neighborhood in partnership with ARTcycle, a community based art collective and street art bike tour, designed to encourage visitors to explore the real Wynwood and the creative culture that goes on long after the Basel Art Fair circus has left town.
Four more information and tickets to visit Republic Worldwide at Fountain Art Fair Miami 2012 please visit fountainartfair.com or contact jason@sitetest.republicworldwide.com.